高壓電—謝佑承駐村個展
HIGH VOLTAGE—HSIEH YU CHENG
Saio-Long Cultural Park Residency Artists Exhibition
[Solo Exhibition]
Opening-2019.11.27 10:00
2019.11.27-12.29

蕭壠文化園區A2倉庫
Saio-Long Cultural park hall A2
駐村期間,我在文資建材銀行內認識了從建築物中拆除的「礙子」——由青色釉料陶瓷製成,一種古老耐高壓電的絕緣體,早期被廣泛安裝於木造建築的懸樑上,負責將通電的銅線固定於室內,成為最早使用電力系統的現代設備。仔細比對每顆礙子,它的大小、尺寸不像工業化生產的規格物件,還留有著匠藝手感的溫潤特質,細節各異其趣。在今日電線甚至已經地下化的時代裡,我難以想像曾有一個時期,人的徒手與知識能夠挑起龐大的電與能量,與之駕馭搏鬥。如今,經塑膠包覆的電線不再像傳統銅線一般容易碰觸走火,但礙子仍使用於戶外的高壓電線桿上,為城市維繫電力網絡。

現代化的電力開啟了人類歷史的新頁,也帶來第二次工業革命。電燈的發明,讓人們不再依晝夜而起居,擁有了未曾有過的自由時間,燈火通明的夜晚彷彿另一個白晝。也因此,電力重新定義了現代社會的條件,影響了戰爭、殖民、商業與文化。日本作家谷崎潤一郎曾在《陰翳禮讚》一書中提到他對電力與黑暗、甚至是對現代性的看法:電燈雖然照明了夜晚,使得原先沒有被利用到的時間與空間得以被人們擴充運用,卻也抹煞了陰翳之處——在電力尚未抵達以前,人們生活於遮蔽處中,與陰影交融誕生的感知與美學。我不禁重疊起眼前產業道路旁懸掛破損的棄置燈箱、倚著路燈的寂寥黑夜、彼此通電的身體,在經過了一個光與亮的盛世後,什麼使得它們如今身體衰敗,又是什麼仍留守於黑暗之處?

此次駐村的作品將展出一系列繪畫、物件與空間裝置,以電力系統為索引,進一步想像、蒐集地方歷史、殖民地、科技技術與現代化社會的縫隙,也許企及它所不可凌駕的速度,再訪其歸途。
During my residency, I knew the object, "pin insulator", from the collections of the Heritage Architectural Materials Vault. Dismantled from buildings, the pin insulator, made of glazed porcelain in cyan, was an antique high voltage insulator which had been widely installed on the overhead beams in wood structured buildings to fix the copper wires as a conductor of electricity indoors. So it was one of the earliest devices used in the modern electricity system. When carefully comparing each pin insulator, I found out that unlike those industrially mass produced objects which have certain specifications in sizes or dimensions, it still possesses the touch of human warmth as well as subtle variations in details deriving from its handcrafting nature. Living in an era that electrical power is now supplied underground, I can hardly imagine there was a period of time when people could uphold this massive electricity system and power while dominating and gaining control over it simply with bare hands and knowledge. Although nowadays, wires coated with plastic won't spark easily if touched as traditional uninsulated copper wires, pin insulators are still having a role on those high-voltage utility poles to maintainthe reliability of electricity gridfor the cities.

Modern electricity has opened a new chapter in human's history as well as advanced the Second Industrial Revolution. The invention of electric lighting has enabled us to be active any time of day or night and to acquire free time that we had never possessed. The nights are shined so brightly just like daytime. Therefore, electricity has redefined the conditions in modern society by influencing wars, colonization, business, and culture. In the book, In Praise of Shadows, Junichiro Tanizaki elaborated his idea about electricity, darkness, and even modernity: although humans can take advantage of and further expand time and space that hadn't been used before thanks to illuminated nights, areas under shadows are being forgotten and erased. Before electricity was supplied, humans were living in shades while shadows were part of our life creating certain kind of perceptions and aesthetics. I can't help but start to visualize the overlapped images of the broken, disused lightboxes hung alongside the industrial roads, the solitary, lightless nights accompanied by street lamps, and their electrified bodies connecting to each other. After the glorious time of brightness and illumination, what causes their declination today? And what remains staying behind in the darkness?

The project of my residency will include a series of paintings, objects, and space installations with reference to the electricity system. It is my intention to further imagine, to collect local historical materials, to explore colonization, to investigate gaps between technology and modern society by outspeeding its development while going back to its originality.
目擊 Witness
廣告招牌、燈管、電線
Advertising sign, lights, wires
150 x 120 x 30 cm
2019
Sign
投影
Projection
2019
︎︎︎ Tap to switch picture ︎︎︎
雷擊
Lightning strike
電線桿、礙子、電線
Telegraph poles, Pin insulator, wires
On-site installation
2019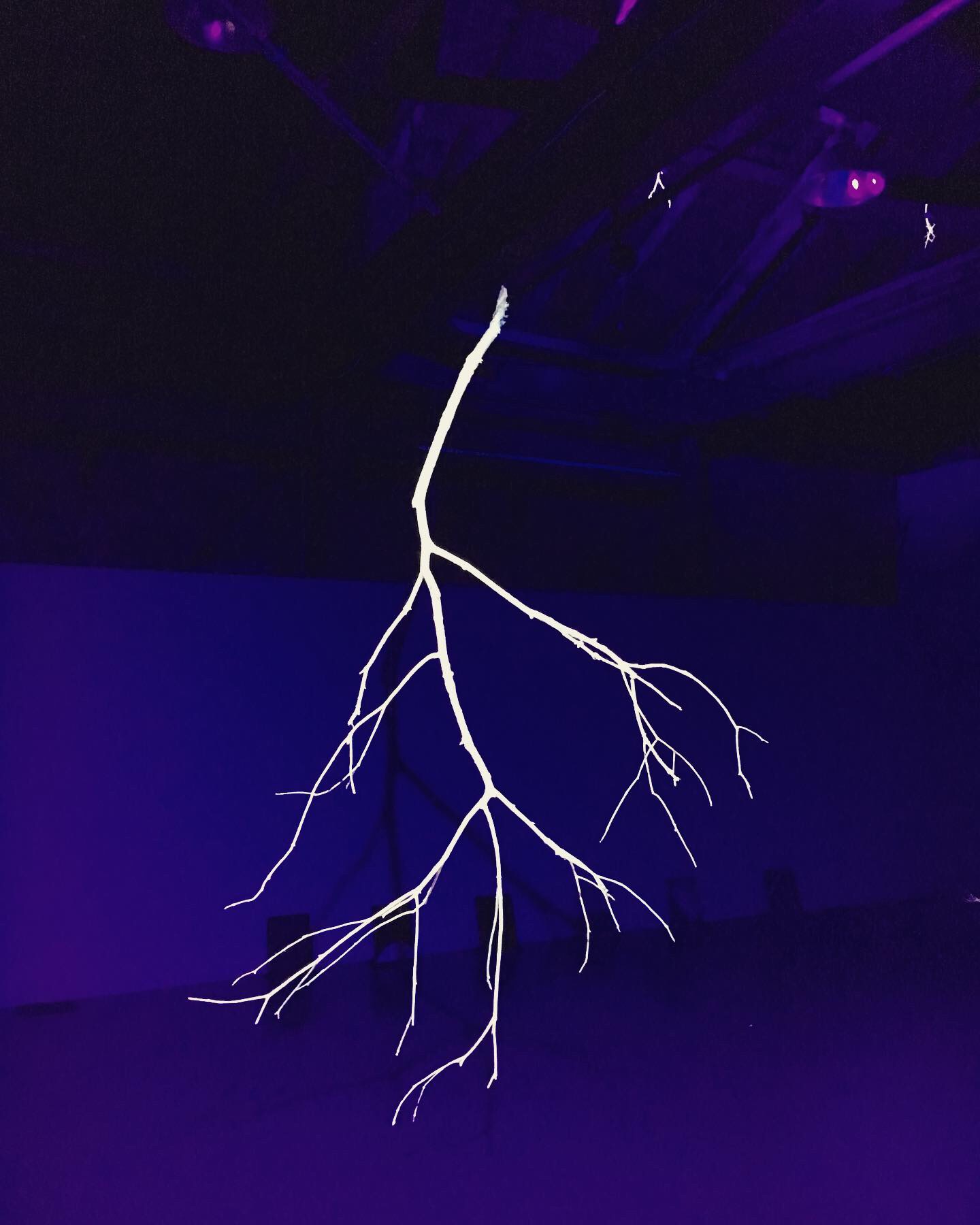 高壓電 - 樹枝、螢光漆、螢光燈具,2019
400 x 300 x 100 cm

High Voltage - Branches, Fluorescent Pigment, 2019
400 x 300 x 100 cm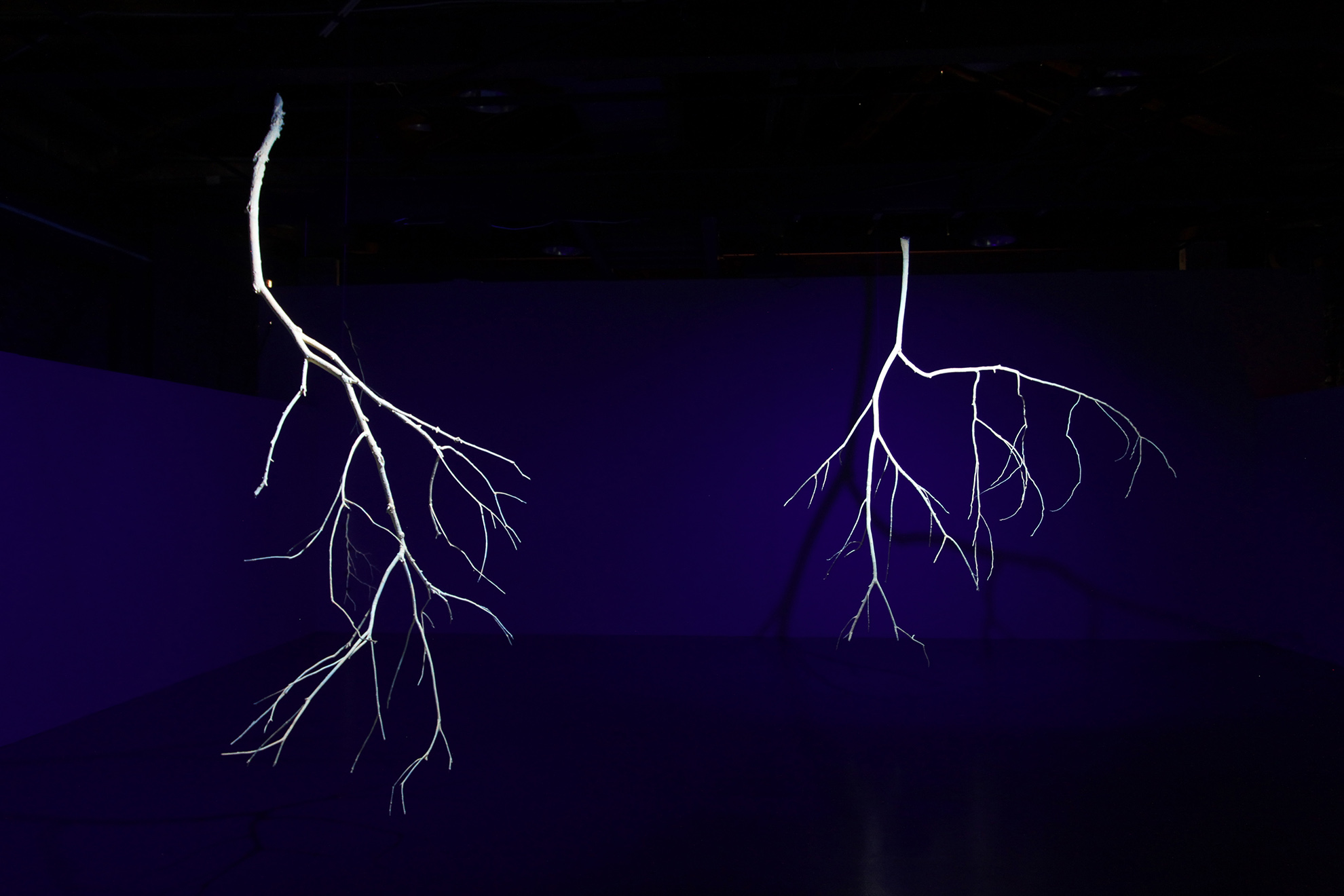 ︎︎︎ Tap to switch picture ︎︎︎
閃電正在路上
Lightning is on the way

油畫顏料、畫布
Oil paint, canvas
25.5×17.5cm x 12 pic
2019